Our mission at Blindskills, Inc., is to build bridges of understanding by sharing information and resources with people of all ages who are blind or visually impaired, their families, and their communities. At the present time, most services are offered at the local level, and are focused on Salem and surrounding communities in Willamette Valley Oregon.
More About Us | Donate with Fred Meyer Community Rewards
Donate through Paypal
Saturday Support Groups
Starting Saturday, January 18, 2019 (and every third Saturday of the month to follow) we will be having a free Life Skills Support Group from 10:30am - 12:30pm located at

Center 50+
2615 Portland Rd., NE
Salem, OR 97301

All are welcome! If traveling by bus, take Cherriots Route 3.
New phone contact information for Blindskills
As of August 2019 our longtime 800 number is no longer available., All calls are being received on our local number, 503-581-4224. Due to some temporary changes in equipment and staffing, many calls may be initially sent to voicemail; but if you leave a short message and contact information, your call will be returned as soon as possible.
DIALOGUE Magazine Suspended After 57 Years
I am very sad to have to tell you that, as of June 2019, we have been forced to suspend publication of our beloved DIALOGUE Magazine. Read more.
Sad News
It saddens us to announce that Carol McCarl passed away May 2. Carol, the founder of Blindskills, publisher of Dialogue Magazine and longtime teacher of blind/visually impaired students has had a huge impact on many of us and she is already missed. Her family has asked for donations to Blindskills in lieu of flowers.
Carol M. McCarl--Called Into Publishing
by B. T. Kimbrough
Looking back on that life-changing phone call from DIALOGUE Founder Don O. Nold in August of 1990, Carol McCarl said that it came as a complete surprise. She and Nold had never discussed DIALOGUE's future, and she had never been asked to serve on its board or editorial staff. Click here to read full story »
---
DIALOGUE Magazine
A World of Ideas for Visually Impaired People of All Ages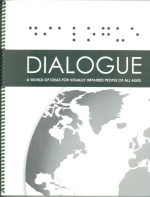 Blindskills publishes DIALOGUE, a quarterly magazine primarily written by and for visually impaired people. DIALOGUE, published for over 50 years, is available in several accessible formats: Large print, braille, email, digital cartridge and digital download. Every issue includes tips on adapting to life with low vision, techniques for easier daily living, career interviews, recreation and sports, technology reviews, and descriptions of new products and services designed for people with visual impairments.
From a recent issue:
Blind Person on Watch: Staying at the Hospital 24/7 by Sue Tullos Duffy
You Can't Fix Stupid by Marty Klein
Vacation Suggestions: A Rich Legacy of History Worth Visiting (Part Two) by Peggy Chong
What's New and Where to Get It by Jackie Ohime
More from past issues of DIALOGUE
Subscribe to DIALOGUE - $35 per year.
Support Groups
Blindskills offers 3 support groups a month. They are held in the following locations.
First Thursday of the month, 12:30-2:00
New Visions-LVLS Center 50+
2615 Portland Rd. Salem, OR
Third Wednesday of the month, 2:00-3:30
Shared Visions Blindskills Office
680 State St, Ste.110 Salem, OR
Third Thursday of the month, 12:30-2:00
New Visions-LVLS Center 50+
2016 Portland Rd. Salem, OR
Facilitator, John Hammill
These groups often have speakers or discussion topics, call Blindskills office for details. 503-581-4224.
A video featuring our support group was produced by Wendy Brokaw at Salem's own CCTV Non-Profit Center.
Free Publications
WHERE DO I GO FROM HERE?
An audio handbook for people who are newly blind
with PROMISES TO KEEP (in print, for friends and family)
Experiencing significant vision loss--or know someone who is? In this free handbook, readers will find words of encouragement and resources to help cope with diminishing sight. Others have experienced similar feelings and share how they coped when they first got the news. You will hear people who went through this life-altering event and have gone on to lead full, productive lives. Call or email to request your free copy today. WHERE DO I GO FROM HERE? is now available on audio CD format, thanks to the generous assistance of the Spirit Mountain Community Fund.
Tips for Hospital Staff Members and Caregivers
When I Meet a Person Who is Blind, I Will ...
Other Publications
CONNIE'S KITCHEN: A COMPILATION OF RECIPES AND TIPS FROM THE PAGES OF DIALOGUE in large print and braille formats, now $10
Support by Phone
In a typical year, Blindskills assists over 2000 individuals who contact us via our local number from all over the United States and Canada and ask us for all kinds of information about blindness--rehabilitation and other services in their local areas, technology, and everyday tips for easier living. Call 503-581-4224
Founded in 1983, Blindskills, Inc., is a nonprofit 501(c)(3)corporation funded by donations from readers, friends and benefactors.
Federal ID Number: 93-0829936.
Blindskills, Inc., P.O. Box 5181, Salem, OR 97304-0181
Phone: 503-581-4224
Email:
info@blindskills.com
Copyright 1983-2016 Blindskills, Inc. All rights reserved.