Our mission at Blindskills, Inc., is to build bridges of understanding by sharing information and resources with people of all ages who are blind or visually impaired, their families, and their communities.
More About Us | Donate with Fred Meyer Community Rewards
Donate through Paypal
DIALOGUE Magazine
A World of Ideas for Visually Impaired People of All Ages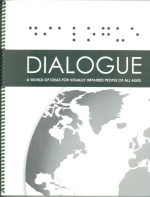 Blindskills publishes DIALOGUE, a quarterly magazine primarily written by and for visually impaired people. DIALOGUE, published for over 50 years, is available in several accessible formats: Large print, braille, email, digital cartridge and digital download. Every issue includes tips on adapting to life with low vision, techniques for easier daily living, career interviews, recreation and sports, technology reviews, and descriptions of new products and services designed for people with visual impairments.
From a recent issue:
Blind Person on Watch: Staying at the Hospital 24/7 by Sue Tullos Duffy
You Can't Fix Stupid by Marty Klein
Vacation Suggestions: A Rich Legacy of History Worth Visiting (Part Two) by Peggy Chong
What's New and Where to Get It by Jackie Ohime
More from past issues of DIALOGUE
Subscribe to DIALOGUE — $35 per year.
Support Groups
Blindskills offers 2 support groups a month. They are held in our office at 680 State St., Suite #110 - next door to Salem United Methodist Church, from 2:00-3:30.
New Visions is on the first Wednesday of the month. We have general discussion and often share challenges and possible solutions. This is a great group for people that are new to vision loss.
Shared Visions is held the third Wednesday of the month. This meeting will have a topic for discussion or guest speakers such as someone from the State Library to talk about Talking Books.
Call the office for more details. 503-581-4224
A video featuring our support group was produced by Wendy Brokaw at Salem's own CCTV Non-Profit Center.
Free Publications
WHERE DO I GO FROM HERE?
An audio handbook for people who are newly blind
with PROMISES TO KEEP (in print, for friends and family)
Experiencing significant vision loss--or know someone who is? In this free handbook, readers will find words of encouragement and resources to help cope with diminishing sight. Others have experienced similar feelings and share how they coped when they first got the news. You will hear people who went through this life-altering event and have gone on to lead full, productive lives. Call or email to request your free copy today. WHERE DO I GO FROM HERE? is now available on audio CD format, thanks to the generous assistance of the Spirit Mountain Community Fund.
Tips for Hospital Staff Members and Caregivers
When I Meet a Person Who is Blind, I Will ...
Other Publications
CONNIE'S KITCHEN: A COMPILATION OF RECIPES AND TIPS FROM THE PAGES OF DIALOGUE in large print and braille formats, now $10
Support by Phone
In a typical year, Blindskills assists over 2000 individuals who contact us via our toll-free number from all over the United States and Canada and ask us for all kinds of information about blindness--rehabilitation and other services in their local areas, technology, and everyday tips for easier living. Call Toll-Free 800-860-4224
Founded in 1983, Blindskills, Inc., is a nonprofit 501(c)(3)corporation funded by donations from readers, friends and benefactors.
Federal ID Number: 93-0829936.
Blindskills, Inc., P.O. Box 5181, Salem, OR 97304-0181
Phone: toll-free 800-860-4224 or 503-581-4224
Email:
info@blindskills.com
Copyright 1983-2016 Blindskills, Inc. All rights reserved.